Electric cars are no longer a thing of the future, they are already making their presence known in the world. In fact, they are not just slowly taking over, they are doing it quite rapidly. It seems like almost every car manufacturer has jumped on the electric bandwagon.
This means that the future might arrive sooner than we originally anticipated. Of course, there are still some concerns surrounding electric vehicles, particularly their range. However, this is a breakthrough that is bound to happen sooner or later.
But if you are someone who is more interested in short-term goals such as acceleration and top speed, there is already a lot of good news for you. Thanks to the direct way electric motors deliver torque, electric vehicles are incredibly fast. They can go from zero to sixty in no time, leaving most supercars in the dust.
However, it's not just about acceleration, top speed is also an important factor to consider. After all, speed is meaningless if it can't be sustained for longer periods of time.
To satisfy both your curiosity and ours, we have conducted thorough research to find out which electric cars are currently the fastest in the world. While many people focus solely on either the 0-62mph times or the top speed, we have decided to take into consideration both factors in our ranking. However, we do have a slight bias towards top speed if two entries happen to be equal.
Today's quickest EVs humble legendary gas-powered supercars. These 20 EVs currently dominate as the fastest production models globally based on verified top speeds and acceleration times.
20. Rivian R1T/R1S
The electric startup Rivian is aiming to one-up Tesla with its long-range R1T truck and R1S SUV models. Available "Quad Motor" AWD configurations allow 3 second 0-60 mph sprints thanks to over 800 horsepower. While not dedicated speed demons, Rivian's first models prove EVs' performance potential.
Top Speed: 125 mph
0-60 Time: 3.0 seconds
Horsepower: 800+
19. Genesis GV70
Hyundai's new luxury brand Genesis is electrifying its lineup starting with the GV70 crossover. The Performance AWD model sports two electric motors outputting 483 horsepower and 516 lb-ft of torque enabling a 4.5 second 0-60 time. Impressive acceleration complements the luxe cabin.
Top Speed: 150 mph
0-60 Time: 4.5 seconds
Horsepower: 483
18. Audi RS e-Tron GT
As Audi's first dedicated electric supercar, the e-Tron GT melds otherworldly acceleration with gran turismo luxury. Its 637 horsepower rockets this handsome four-door to 60 mph in 3.1 seconds. Quattro AWD ensures that power applies judiciously.
Top Speed: 152 mph
0-60 Time: 3.1 seconds
Horsepower: 637
17. Kia EV6 GT
Kia is elevating their electric game with the EV6 crossover, available in regular and spicy GT versions. The GT packs twin motors for a 576 horsepower punch that achieves 60 mph in just 3.4 ticks. This Kia keeps up with the priciest competitors.
Top Speed: 161 mph
0-60 Time: 3.4 seconds
Horsepower: 576
16. Tesla Model 3 Performance
Tesla's compact sedan enters beast mode in Performance trim with a 3.1 second 0-60 time courtesy of its dual motor AWD powertrain. Lower weight aids acceleration, while Track mode preps the chassis for clipping apexes.
Top Speed: 162 mph
0-60 Time: 3.1 seconds
Horsepower: 450
15. Porsche Taycan Turbo S
The Porsche Taycan Turbo S is an all-electric sports car produced by German automaker Porsche. It is the flagship model in the Taycan lineup and is known for its high performance and luxury features.
The Taycan Turbo S is powered by a 93.4 kWh lithium-ion battery pack that powers two electric motors, one on each axle, providing all-wheel drive. The combined output of the motors is 750 horsepower, but the Taycan Turbo S can temporarily boost up to 751 horsepower with overboost. It can accelerate from 0 to 60 mph in just 2.6 seconds, making it one of the fastest electric cars on the market.
The Taycan Turbo S has a range of approximately 192 miles on a full charge, according to EPA estimates. It supports fast charging, allowing the battery to be recharged up to 80% in just 22.5 minutes using a high-power charger.
In terms of design, the Taycan Turbo S features a sleek and aerodynamic body, with a low, wide stance. It has a luxurious and high-tech interior, with premium materials and advanced technology features. The car offers a comfortable and quiet ride, thanks to its advanced suspension system and sound insulation.
Overall, the Porsche Taycan Turbo S is a high-performance electric sports car that combines luxury, speed, and cutting-edge technology. It represents Porsche's commitment to electric mobility and showcases the brand's ability to produce high-performance electric vehicles.
Top Speed: 161 mph
0-60 Time: 2.6 seconds
Horsepower: 750
14. Faraday Future FF91
This struggling startup aims to challenge Tesla with the FF91 luxury flagship touting 1,050 horsepower and a 2.4 second 0-60 time. Those radical stats demonstrate its focus on performance. But bankruptcy risks and delays surround Faraday Future.
Top Speed: 180 mph
0-60 Time: 2.4 seconds
Horsepower: 1,050
13. Tesla Model X Plaid
Tesla's largest SUV also ranks among the world's quickest accelerating production cars ever with its 1,020 horsepower tri-motor Plaid model. Nearly imperceptible 2.6 second 0-60 mph times let it shame Lamborghinis off the line.
Top Speed: 163 mph
0-60 Time: 2.6 seconds
Horsepower: 1,020
12. Nio EP9
This Chinese-built EV supercar generates 1,341 horsepower from four electric motors to rocket to 60 mph in only 2.7 seconds. Helping it achieve a record Nürburgring Nordschleife lap time for EVs, it hits a limited top speed of 195 mph.
Top Speed: 195 mph
0-60 Time: 2.7 seconds
Horsepower: 1,341
11. Lotus Evija
A stunning electric hypercar from legendary Lotus, the Evija produces 1,971 horsepower from four electric motors. Torque vectoring provides prodigious grip as it accelerates to 60 mph in under three seconds before reaching a 200+ mph top speed.
Top Speed: 200+ mph
0-60 Time: Under 3 seconds
Horsepower: 1,971
10. McMurtry Speirling
This wild track special designed for Goodwood's famous hill climb puts down 1,000 horsepower despite weighing just 1,361 pounds. The Speirling reaches 60 mph in 1.5 seconds on its way to a 150 mph top speed. Extreme performance meets diminutive dimensions.
Top Speed: 150 mph
0-60 Time: 1.5 seconds
Horsepower: 1,000
9. Volkswagen ID. R
Built to tackle the Pikes Peak International Hill Climb, this specially constructed Volkswagen racer combines 670 horsepower with intelligent AWD to ascend mountain roads at blazing speeds. Blistering 2.25 second 0-60 mph acceleration demonstrates its potency.
Top Speed: 168 mph
0-60 Time: 2.25 seconds
Horsepower: 670
8. Maserati GranTurismo Folgore
Maserati's first production EV coming in 2023 makes over 1,200 horsepower available from three high-output electric motors. As the brand's new flagship, the Folgore will combine Italian style with acceleration under 2.0 seconds to 60 mph.
Top Speed: TBA
0-60 Time: Under 2.0 seconds (estimated)
Horsepower: 1,200+
7. Lucid Air
Silicon Valley based Lucid Motors aims to compete with Tesla's Model S directly with the luxury Air sedan. In range-topping Dream Edition form, 1,111 horsepower propels it to 60 mph in 2.5 seconds before reaching a governed top speed of 168 mph.
Top Speed: 168 mph
0-60 Time: 2.5 seconds
Horsepower: 1,111
6. Tesla Model S Plaid
Tesla's reigning flagship sedan continues dominating speed metrics for production EVs with the new Model S Plaid and its 1,020 horsepower from three electric motors. 60 mph arrives in under 2.3 seconds without any transmission shifts.
Top Speed: 200 mph
0-60 Time: < 2.3 seconds
Horsepower: 1,020
5. Pininfarina Battista
This gorgeous Italian EV hypercar conjures 1,900 horsepower and 1,696 lb-ft of torque from four electric motors. Expect 0-60 mph in around 2 seconds and a top speed exceeding 215 mph from this hand-built speed demon.
Top Speed: 217 mph
0-60 Time: Under 2 seconds
Horsepower: 1,900
4. Deus Vayanne
Austria's Deus Automobiles recently unveiled their Vayanne hypercar concept promising 2,200 horsepower from dual electric motors along with a 8,700 RPM redline. If produced, 2.2 second 0-60 sprints and 280+ mph top speed could result.
Top Speed: 280+ mph
0-60 Time: 2.2 seconds (estimated)
Horsepower: 2,200
3. Tesla Roadster
Officially the quickest accelerating production car ever built, Tesla's next-gen Roadster can supposedly rocket to 60 mph in just 1.1 seconds thanks to its SpaceX-derived rocket thruster option. This 200+ mph road rocket keeps pushing EV performance to the extremes.
Top Speed: 250+ mph
0-60 Time: 1.1 seconds
Horsepower: 1,000+
2. Aspark Owl
This Japanese electric hypercar generates 1,480 horsepower and 1,180 lb-ft for physics-defying speed runs. The Owl may possibly dethrone the Roadster by reaching 60 mph in only 1.79 seconds. Top speed also exceeds 250 mph for this hand-built EV.
Top Speed: 249 mph
0-60 Time: 1.79 seconds
Horsepower: 1,480
1. Rimac Nevera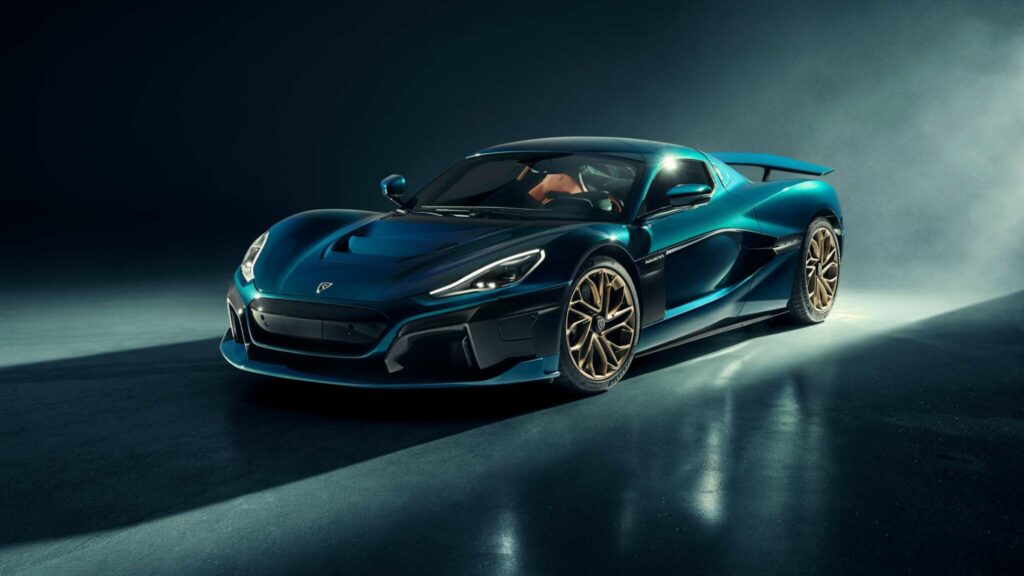 Croatia's Rimac tops the hyper-EV hierarchy for now with the gorgeous Nevera and its 1,914 horsepower from four electric motors. This Le Mans-inspired coupe can achieve sixty mph in just 1.85 seconds. Top speed is limited to 258 mph.
Top Speed: 258 mph
0-60 Time: 1.85 seconds
Horsepower: 1,914
As battery capacities continue improving and power electronics shrink, electric propulsion offers seemingly limitless performance potential. While these jaw-dropping EV acceleration times may seem unnecessary, they demonstrate e-mobility's capabilities. The future looks electrifyingly quick!
Why EVs Accelerate So Fast?
Understanding the instant acceleration of today's quickest EVs requires examining how their electrical systems differ from engine-powered rivals:
Instant Torque – Electric motors output maximum torque immediately. Gas engines must spool up through the rev range to build power.
Single Gear Transmission – One fixed gear ratio optimized for acceleration instead of multiple gears. No shifts needed.
All-Wheel Drive – Dual or triple motor AWD allows prodigious power application for grip off the line.
Low Center of Gravity – Heavy battery packs mounted low optimize weight distribution for traction and handling.
Unfettered Power – No engine power band or rev limiter restricts output. Electric motors can use full power constantly.
Minimal Inertia – Few moving parts and their lightweight allow rapid speed changes unlike lumbering engines and drivetrains.
The unique advantages of electric drivetrains give them unmatched acceleration capabilities. Their instant-on power lets them beat any combustion car off the line easily.
Why Don't EVs Have Normal Transmissions?
Virtually every production electric car uses a single speed direct drive transmission as opposed to traditional automatics or manuals with multiple gear ratios. There are solid engineering reasons behind this:
Constant Torque – Unlike gas engines, electric motors make peak torque from 0 RPM on up. A multi-gear transmission tries to keep engine torque and RPM in the optimal band. EVs don't need this.
Simplicity – A single gear is far more reliable with fewer parts to break. Multi-gear transmissions add complexity, weight and power losses.
Efficiency – Every gear change saps mechanical energy that EVs recapture instead through regeneration when slowing down.
Software Controls – Smart power management by the ECU maximizes acceleration while preserving battery life. Shifting not required.
Weight Savings – Eliminating most of the transmission reduces vehicle weight for better handling and range.
Interior Space – Lack of a driveshaft and gear selector frees up room for passengers and storage.
While EVs don't shift like gas cars, well-programmed software provides a similar driving experience while optimizing efficiency and acceleration.
Do Electric Motors Have Limits on Speed?
Unlike gas engines restricted by piston speed limits, electric motors essentially have no restrictions on rotational speed up to the limits of the materials involved. Their theoretical top speeds are extremely high:
10,000 – 20,000 RPM
Typical max safe operating speed for today's EV motors before centrifugal forces threaten durability. Enables very high vehicle speeds.
20,000+ RPM
Possible in motors specifically designed for extreme high-RPM use at the expense of torque and efficiency. Pushes power into hypercar territory.
50,000+ RPM
Theoretically attainable assuming advanced materials like carbon-fiber rotors can withstand immense centripetal forces and heat buildup.
But there are still practical limits:
Battery Drain – Turning motors extremely fast consumes large amounts of power quickly.
Safety – Such velocity exceeds safe operating speeds for road use. Motors may explode from stress.
Useless for Driving – Produces no more power than ~10,000 RPM, just waste and potential failures.
While electric motors can safely spin unimaginably fast in theory, there are few compelling reasons to do so. Moderation is prudent for production vehicles.
Why EVs Don't Have Fast Top Speeds Despite Quick Acceleration
Savage sub-2 second 0-60 mph sprints demonstrate an EV's incredible acceleration, but their top speeds are not equally mind-blowing. Why is that?
Battery Drain – Wind resistance increases exponentially with speed, consuming huge amounts of energy above ~150 mph. Batteries deplete rapidly.
Motor Limits – Operating motors at extremely high RPMs for extended periods risks damage from immense centrifugal forces.
Tire Tech – Production tires are not rated for extremely high sustained speeds above 200 mph for safety. Special racing tires required.
Downforce Needed – Psychological effects of high speed require active aerodynamics or else vehicles become unstable.
Charging Times – Hitting 200+ mph just a few times could require lengthy recharging. Impractical for street driving.
Legal Speed Limits – Public roads have much lower legal limits that make chasing 200+ mph top speeds pointless outside racetracks.
While most modern EVs could safely hit very high speeds for short periods if uncorked, manufacturers intentionally limit top speeds to practical levels for road use. Quick acceleration is far more relevant.
Do EV Drivetrains Have a Power Limit?
Can electric drivetrains make unlimited power? Not quite. There are a few technical factors limiting sustained power output:
Battery Output – Total power is limited by the maximum discharge rate the battery pack can sustain. More cells allow higher draw.
Thermal Limits – Motors, inverters, and batteries overheat if used at peak output for too long. Performance derates until cooling catches up.
Power Electronics – The capacity of transistors and wiring to transmit current without failure caps total potential power.
Torque Delivery – At extremely high power, traction control intervenes to avoid instant torque overwhelming grip and control.
Voltage Limits – Current battery pack voltages max out around 400-800 volts for safety. This constrains energy delivery.
Cost – Component and battery expenses rise exponentially with increased capacity and power, which most buyers won't justify.
For any car, chasing huge power outputs requires compromises in longevity, efficiency, and cost. Striking the right balance for intended usage is key for production EVs. Reliability cannot be sacrificed. Race cars ignore such concerns.
Why EV Range Drops Rapidly at High Speed
While electric vehicles are highly efficient in urban driving, their range rapidly decreases at sustained high speeds. For example, range can drop 50% or more at highway speeds. Several factors cause this:
Aerodynamic Drag – Air resistance increases exponentially above 50 mph, making the motors work much harder. Drag saps energy.
Rolling Resistance – Tires get hotter at high speeds, increasing friction forces working against motion.
Battery Efficiency – Lithium-ion cells lose efficiency when discharging at a fast rate to sustain high speeds.
Regenerative Braking – The ability to recapture energy while slowing down is minimized without stop-and-go traffic.
Motor Efficiency – Electric motors become less efficient when operating outside an optimal speed and load range.
Driver Behavior – Higher speeds lead to more aggressive accelerations and braking which use more energy overall.
The impacts compound, explaining the drastic range reductions. While EVs are very efficient around town, long highway trips at high speed will drain batteries quickly. Charging needs increase.
Is Battery Capacity the Main Limit on EV Top Speed?
Many factors influence an electric vehicle's maximum speed, but battery capacity is the primary limitation. Total battery storage sets practical speed limits in three key ways:
Total Energy – The battery must store enough total kilowatt-hours to complete acceleration runs and achieve desired top speed milestones.
Discharge Rate – Peak amperage draw capability allows motors instant access to maximum power. High discharge battery backs are essential.
Voltage – Total battery output voltage multiplied by current defines power. So 500V x 500A = 250 kilowatts of power, for example.
Thermal Limits – Battery discharge temperature increases during hard acceleration. Capacity must be ample to avoid overheating at peak output.
Charge Times – Depleting the battery quickly with speed runs necessitates lengthy recharging. Large packs can be drained further before needing to charge.
Doubling battery capacity could essentially double an EV's effective top speed by providing more total energy and peak power. But it would also require compromises in cost, weight and packaging. More energy alone doesn't guarantee higher speed.
Outlook for Future Electric Supercars and Hypercars
While today's quickest production EVs already outpace legendary gas-powered exotics, the potentials to push performance further with emerging technologies remain tremendous going forward:
Faster Charging – Dramatically decreasing recharge times will alleviate range anxiety when driving at max performance.
Advanced Batteries – Gradual improvements in energy density will continue expanding possibilities as battery packs can shrink.
800+ Volt Systems – Increased voltage enables ultra-high discharge rates to feed more power instantaneously.
CFRP Lightweighting – Carbon fiber construction reduces weight and unsprung mass for better handling at speed.
Active Aero – Sophisticated, adjustable aerodynamics will provide needed downforce without compromising efficiency when cruising.
Bespoke Tires – Tire manufacturers will continue developing compounds and constructions to suit EV performance demands.
Quad/Quint Motors – More than two or three motors further optimizes traction and torque vectoring.
Smart Drivetrains – Advanced software manages power delivery for maximum performance without imperiling stability, range, or safety.
Electric motors provide a vast untapped performance reservoir automakers are only beginning to explore. As technology progresses, EVs will continue outpacing antiquated notions about limits of electric propulsion. Buckle up!
Are Electric Motors Actually More Powerful Than Gas Engines?
Electric cars continue demonstrating incredible straight-line speed, but does this mean their motors are more powerful than internal combustion equivalents? Some key comparisons:
Torque Delivery – Electric motors make 100% of torque from a standstill. Gas engines must rev up through their power band to hit peak torque RPMs.
Weight Savings – EV drivetrains weigh much less than a reciprocating engine, transmission, exhaust, etc. This benefits acceleration.
RPM Range – High performance electric motors can safely spin over 10,000 RPM for prolonged periods to hold peak power. Gas engines are much more restricted at high RPM.
Thermal Limits – EVs suffer less power loss from heat soak during hard use since they don't produce waste engine heat.
Gearing Optimization – With a single gear ratio, EVs maximize mechanical leverage for acceleration versus normal multi-gear transmissions.
Throttle Response – Electrical signals instantly deliver requested power, rather than waiting for engine intake and combustion cycles.
Power Band – Electric motors make full torque and horsepower at all operating speeds. Gas engines must reach optimal RPM.
So in many respects, electric motors are distinctly more powerful for producing maximum performance, especially right off the line. But gas technology still holds advantages for endurance applications.
How Much Faster Can Production EVs Get?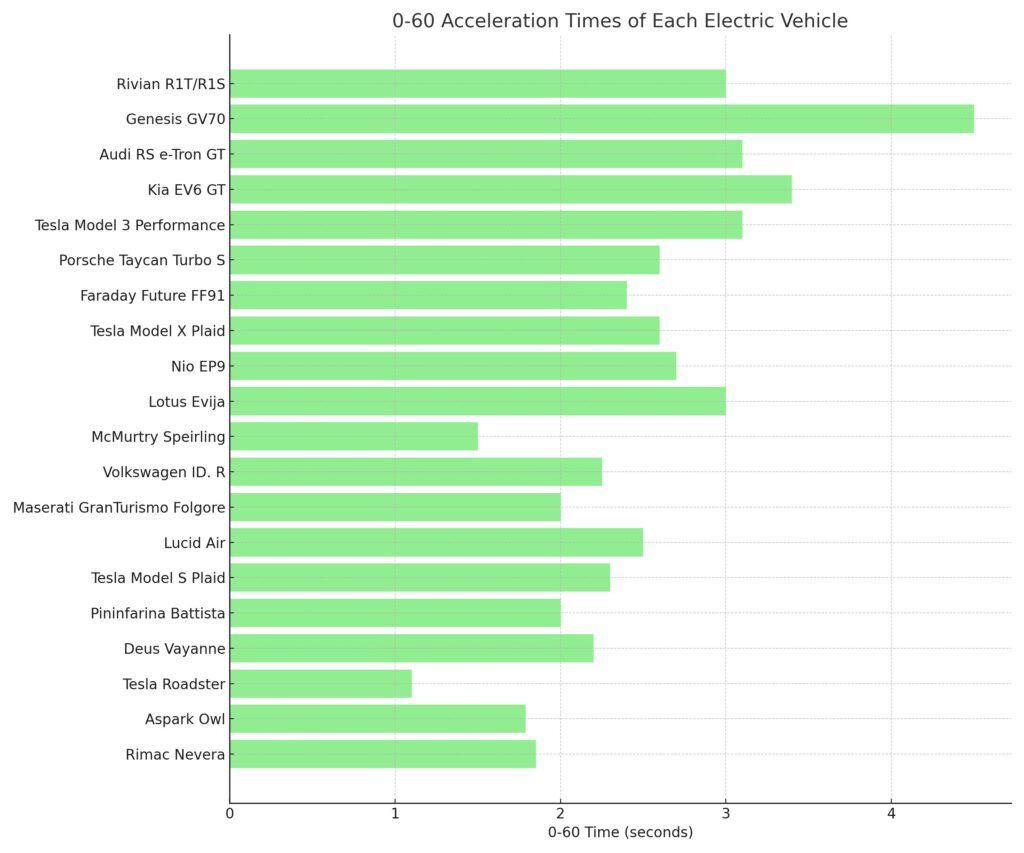 While many of today's fastest production EVs already outpace million-dollar supercars, development is far from over. We can expect continual improvements:
0-60 mph – Already nearing the limits of tire traction, sub-2 second times may happen but with diminishing returns. 1.5 seconds seems the ultimate threshold.
Quarter Mile – 7-8 seconds seems realistic with 2+ megawatt powertrains. Improving traction will be paramount.
Top Speed – With extremely low-drag designs, 300 mph is likely possible in limited production hyperscars. But energy consumption and tire tech ultimately limit top end.
Lap Times – Optimized aerodynamics, weight distribution and high-downforce will allow EVs to surpass ICE lap records on twisty circuits.
Launch Control – Further refinement in traction management will maximize acceleration from a standstill.
Cornering Gs – Next generation motors, batteries and chassis construction will push handling limits ever higher.
Expect hyper-EVs to continue outpacing gas rivals in some metrics, especially point-to-point acceleration. But huge leaps beyond today's benchmarks will require greater compromises unlikely in production cars aimed at usability. The ultimate limits are still over the horizon.
Conclusion
The rise of electric supercars and hypercars demonstrates that EVs provide profound performance advantages in many respects over gas-powered rivals. As battery and motor technologies continue to progress, the performance possibilities for electric vehicles will keep expanding exponentially. Buckle up, because electrification promises to take supercar performance into uncharted territories in the coming decades!
Top 10 Fast Electric Car FAQs
Why are electric cars so fast off the line?
Instant maximum torque from electric motors allows EVs to accelerate ferociously from 0 mph unlike gas cars that must rev up to make peak power.
What is the fastest production electric car right now?
Currently, the Rimac Nevera holds the title as fastest production EV with a 1.85 second 0-60 mph time and a top speed of 258 mph.
Do electric cars have transmissions?
Most EVs use a single speed direct drive transmission since electric motors provide ample torque without needing multiple gears like gas engines.
How do EVs handle high speeds and fast cornering?
Low center of gravity battery packs aid handling, while sophisticated stability controls and torque vectoring allow incredible grip when accelerating hard or at speed.
Why don't electric cars have insane top speeds?
While quick, most EVs have top speeds limited to around 155-175 mph. Massive battery drain above this, tire limitations, drag, and stability risks outweigh benefits of top speed bragging rights.
How much power can an electric motor make?
Motor output depends on battery discharge rate, voltage limits, thermal management, and power electronics. The top hypercar motors today make around 2,000 horsepower safely.
What is the main limitation on EV performance?
Battery capacity and discharge rate is the primary limitation since the battery must provide all the power and energy for rapid acceleration and high speeds.
How does climate impact electric car performance?
Cold weather reduces battery output and efficiency. Hot climates can cause overheating issues if driving hard repeatedly. Ideal temps are 72-95°F.
Will electric cars keep getting faster?
As technology keeps improving, especially batteries, we can expect performance benchmarks to keep advancing. More radical hyper EVs will push the limits. But traction remains a key restriction.
Are electric race cars faster than gas/hybrid race cars?
At most levels of racing currently, electric power already provides significant performance and efficiency benefits. As tech progresses, EVs appear poised to dominate motorsports.